O texto a seguir contém spoilers para O Flash # 796, à venda agora pela DC Comics.
O Flash o escritor Jeremy Adams confirmou que nomeou intencionalmente o terceiro filho de Wally West e Linda Park em homenagem a Mark Waid.
Em O FlashNo enredo "Guerra de Um Minuto", recentemente concluído, Impulso/Bart Allen e Kid Flash/Wallace West revelaram um velocista que parece ser do futuro e foi sequestrado pela raça alienígena conhecida como Fração. Os dois heróis libertam o velocista e ele começa a ajudar Barry Allen, Jay Garrick e vários outros heróis em seus esforços para fazer a Fração desocupar o planeta.
RELACIONADOS: DC acaba de combinar dois grandes vilões do Flash: conheça Reverse-Grodd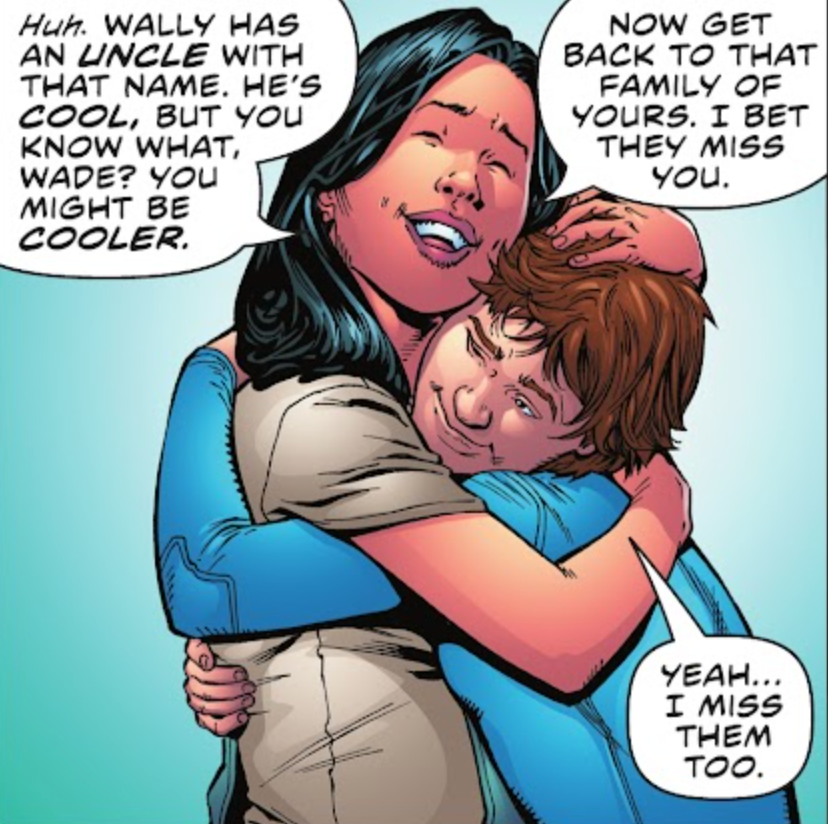 No fim de O Flash #796 (por Adams, Roger Cruz, George Kambadais, Fernando Pasarin, Wellington Dias, Oclair Albert, Luis Guerrero, Matt Herms, Pete Pantazis e Rob Leigh), Gold Beetle está levando o velocista (e vários outros personagens que foram anteriormente morto em heróis em crise mas depois trouxe de volta O Flash # 795) para seus cronogramas adequados quando Linda o interrompe e diz que nunca soube o nome dele. "Wade", ele responde. "Meus pais me deram o nome de Wade em homenagem a um parente legal ou algo assim." Linda responde: "Huh. Wally tem um tio com esse nome. Ele é legal, mas quer saber, Wade? Você pode ser mais legal."
Em 6 de abril de 2023, Adams confirmou no Twitter que Wade é o terceiro filho de Wally e Linda e que recebeu deliberadamente o nome de Mark Waid, que escreveu O Flash e Impulso por muitos anos durante a década de 1990 (junto com um breve retorno ao título em 2007-2008). "Primeiro perguntei a Mark se estava tudo bem", escreveu Adams. "Acho que Mark contribuiu mais para o mito do Flash do que qualquer um que o tenha escrito. Felizmente, ele ficou lisonjeado e me foi permitido prosseguir com isso (com uma ligeira variação de ortografia)."
RELACIONADOS: The Flash acaba de descobrir um velocista mais poderoso que Wally West
Jeremy Adams' Clarão A corrida está chegando ao fim
Com O Flash # 797 tendo sido lançado em 18 de abril de 2023, a corrida de Adams pelo título está chegando ao fim, já que sua edição final da série será em 6 de junho de 2023 O Flash #800 — uma edição histórica que também traz contribuições de Waid, Joshua Williamson, Geoff Johns, Simon Spurrier, Pasarin, Oclair Albert, Todd Nauck, Carmine Di Giandomenico, Scott Kolins e Mike Deodato Jr. O Flash # 800, Wally West está recebendo uma nova série de reinicialização "Dawn of DC" lançada em setembro de Spurrier e Deodato Jr.
Ambos O Flash #796 e O Flash #797 já estão à venda na DC.
Fonte: Twitter